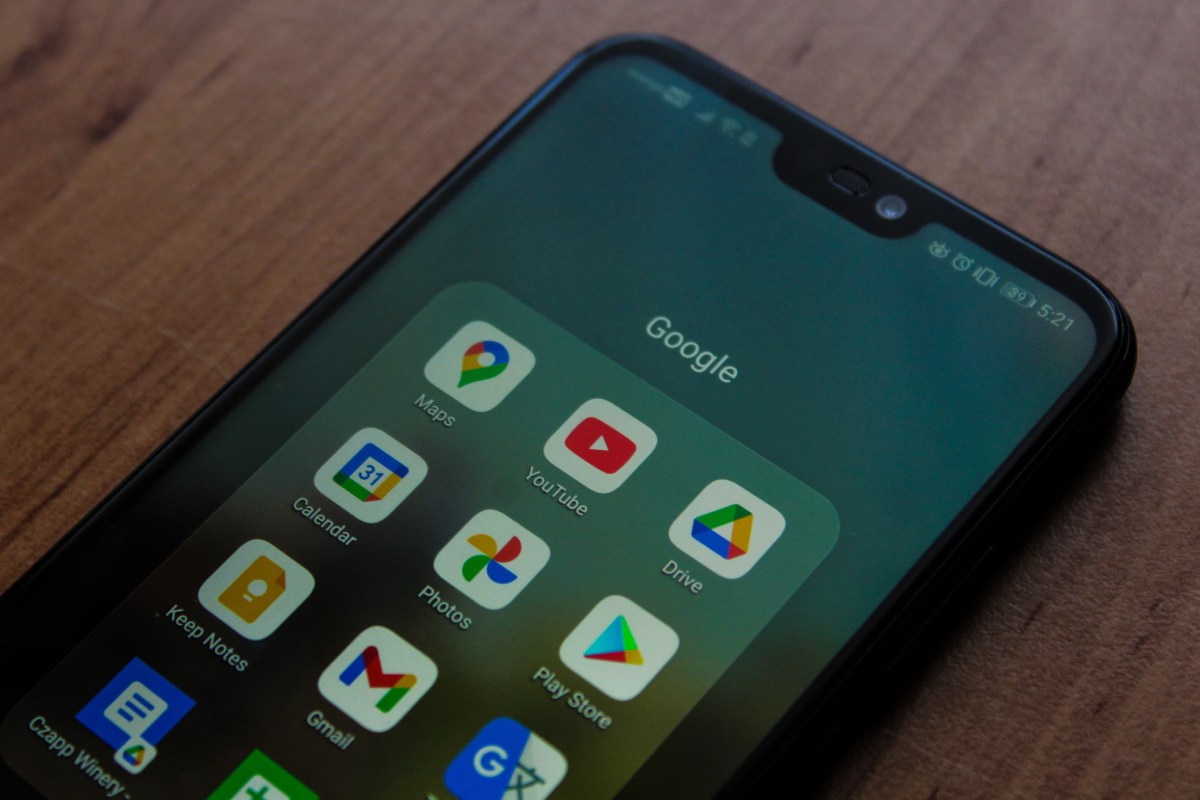 4 Best Spy Apps for Android Without Access to Target Phone [2023 Review]
For just about every digital activity you can imagine, there's likely an Android spy app designed to track it. Need to monitor GPS locations? No problem. Want to read text messages? Consider it done. Every year, the spy app market introduces dozens of solutions.
But how to pick the best one? Going through product reviews might seem a viable option, but they often don't include real-life user experiences. We've taken a different approach and tested the most popular apps to provide you with accurate information.
Which app tops our list? Let's find out!

Table Of Contents
4 Best Spy Apps for Android Without Access to Target Phone
Phonsee – Best Remote Spy App for Android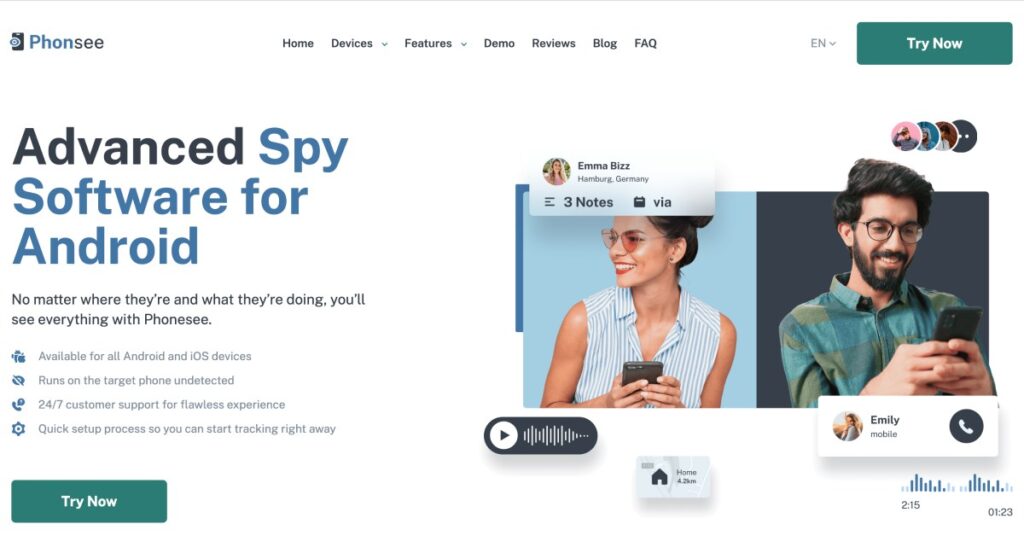 Phonsee is the best spy app without having target phone that is used by thousands of people every day. It tracks over 30 data types on Android phones and tablets, sending instant updates to your online Control Panel. The cherry on top? No one except you will know Phonsee is running on the target device. It doesn't show any icon on the main screen or in the settings.
What Can You Do With Phonsee?
Phonsee lets you go through every inch of the target device's data as if you were holding it in your hands. Specifically, you can monitor:
Call logs – view outgoing, incoming, and missed calls with timestamps, duration, and contact information.
Text messages – read their texts, even deleted ones, in a chat-like format.
GPS location – track their current location on a real-time interactive map. Review a detailed history of places they've been.
Photos & videos – scroll through their gallery and download files for offline access.
Social media – read private & group chats, see friend lists, shared files, and more.
Browsing history – view a comprehensive list of visited sites and saved bookmarks.
Calendar events – gain insights into their daily, weekly, and monthly plans and appointments.
Installed apps – see every app they have, including the hidden ones.
On top of that, the remote Android spy app Phonsee has secret recording features. It captures screenshots automatically and logs every keystroke made on the device. Whenever they try to delete files or chats, the app will save a copy for you to view.
How to Use Phonsee
Phonsee is suitable for both newbies and experienced users. You can have it set up in just a few minutes. Follow these steps:
Create your free account on phonsee.com.
Pick up the subscription plan that works best for you.
Check your mailbox for the welcome email with the installation guide. Follow the instructions carefully to configure Phonsee.
Log into your online Control Panel and start monitoring!

Advantages of Phonsee
Phonsee holds several distinct advantages over similar cell phone spyware without access to phone:
Secure Operation: Phonsee runs in Stealth mode, ensuring your target won't know about its presence. It doesn't affect the device's performance, even when automatic screen recording or keylogging is enabled.
Remote Control: Phonsee provides monitoring and control features, such as app and website blocking. If you're a parent of children who spend too much time on their phones, Phonsee lets you limit their Internet access.
Intuitive and Clear Interface: After signing into your control panel, you'll see all relevant data categorized into different sections, such as contacts, calls, and messages.
Affordable Pricing: Phonsee provides three subscription plans starting from $9 per month. It also offers a 14-day money-back guarantee for users who wish to try the free text monitoring app before making a commitment.
Live Customer Support: A team of professional support agents works 24/7 to provide you with timely assistance in case of any issues.
Spynger – Best Alternative Spy App for Android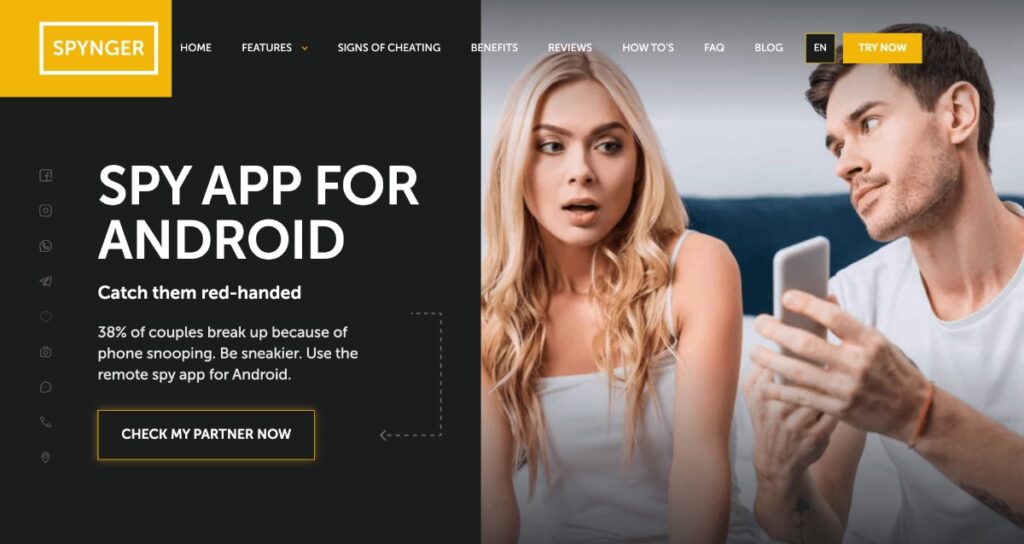 Among competitors of Phonsee, Spynger takes the top position for its rich feature set and intuitive design. It's a cross-platform app that works with most smartphones running Android 4.0 and above. To use Spynger, you don't need to install anything on your device. The app transfers collected data to a cloud-based server, which you can access from any browser.
Spynger supports tracking of 30+ data types, including:
Messages – spy on text messages without access to target phone. Spynger logs all chats from the default Android SMS app and third-party platforms such as WhatsApp, Viber, and Line.
Call logs – check call history with contact names, times, dates, and durations of the calls.
GPS Location – view the current location on a map with coordinates and addresses.
Social media activity – read conversations on Facebook, Snapchat, Instagram, Tinder, and other platforms.
Internet usage – get a complete list of visited websites with timestamps and search queries.
Emails, calendar logs, and notes – discover upcoming events and plans.
Media files – browser through the photos & videos, including hidden ones.
Wi-Fi networks – see which Wi-Fi networks were used and when.
Advantages of Spynger
Spynger takes up a little space on a target device and works invisibly. Even though this remote Android spy app runs a simple algorithm, it continuously monitors all the activities on a target device. You'll receive updates instantly, without any delays or glitches.
Moreover, Spynger alerts you whenever it detects suspicious activity on the device. You can customize the notifications to receive alerts on location changes or specific words that you have added to the blacklist.
Disadvantages
Spynger allows users to track multiple devices, but each connected device requires a separate subscription package. If you're on a tight budget, consider other apps from our list.
Pricing
There are three subscription packages you can choose from:
1 month – $42.30
3 months – $23.74 per month
12 months – $9.99 per month
Moniterro – Smart Cell Phone Spyware Without Access to Phone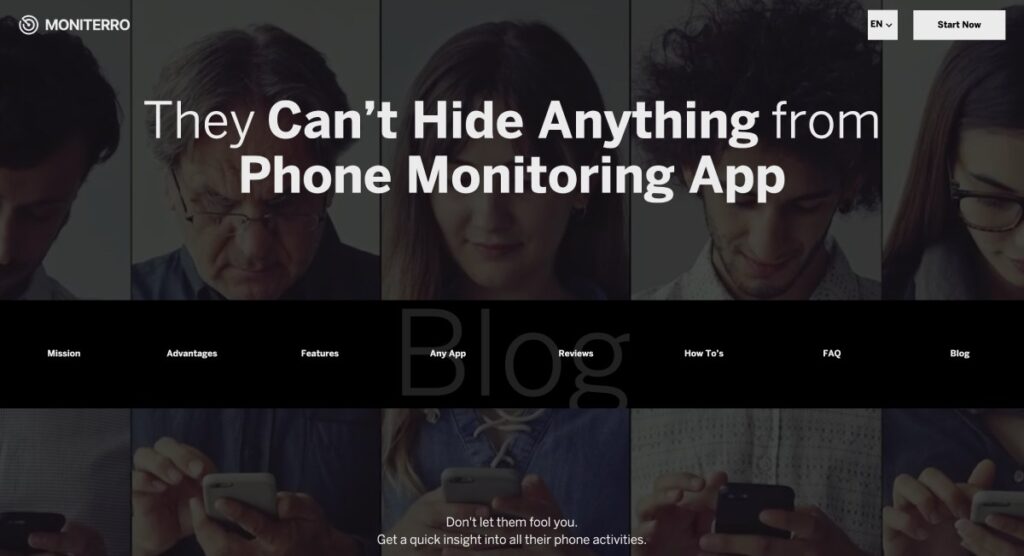 Consuming gigabytes of mobile data is a norm for many users. As a result, you might spend a lot of time tracking someone's activity. Is there a way to speed up the process? Moniterro, an AI-powered remote Android spy app, analyzes information for you. It generates daily reports on the key online and offline activities, such as:
Recently visited locations
Most messaging contacts
Most calling contacts
Most used apps
Frequently visited sites
If you need detailed info on each activity, that's no problem either. Moniterro records the content of text messages, search queries, and calls. You can filter data by timestamps and contact numbers from a remote Control Panel. Like the other apps mentioned on our list, Moniterro has an accurate GPS tracker that shows the live location of the target device.
Advantages of Moniterro
Moniterro is compatible with both rooted and non-rooted devices running Android 4.0 and above. If you're unsure which app version works best for you, there's a spy on cell phone without access to phone free demo on Moniterro's official website.
Disadvantages
Moniterro doesn't have any flaws, except for the fact it doesn't switch to Stealth mode automatically. You have to activate it manually during configuration.
Pricing
The price is based on a subscription length and starts from $10 per month.
Detectico – Web-Based Spy App for Android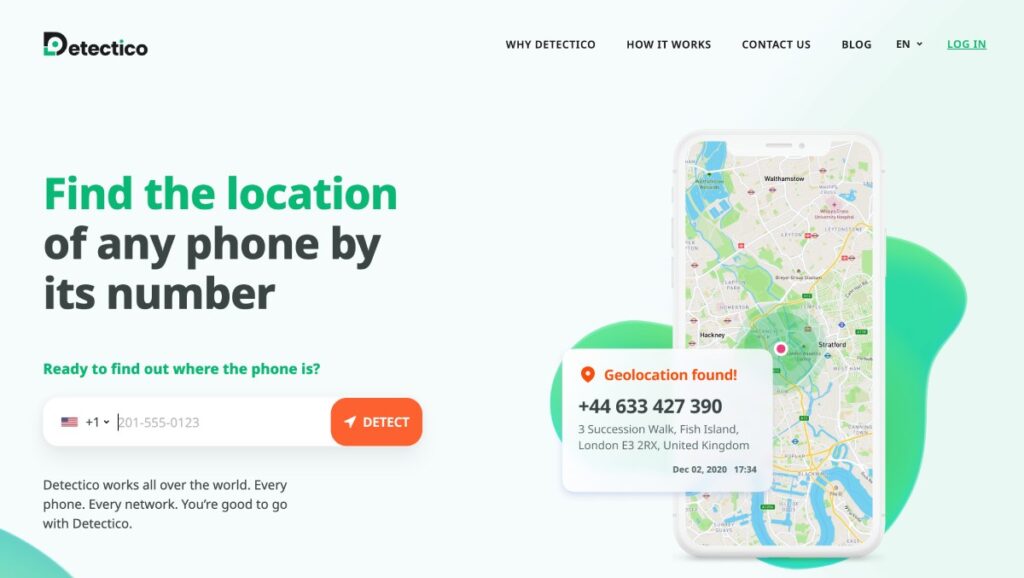 Detectico is a unique web-based tool for location tracking. Unlike other apps on our list, it works straight from any Internet browser without prior configuration. You just need an active account and a target phone number to use Detectico.
Here's a quick rundown of how to track a cell phone location without installing software on target phone:
Go to detectico.com.
Enter a target phone number into the search field along with a custom text message.
Hit the "Locate" button. Detectico will send your message with a tracking link.
View their location. Once the receiver clicks on the link, you'll see a real-time location on a map.
Advantages of Detectico
Detectico is compatible with a broad range of devices, from the latest Android smartphones to push-button phones. Moreover, you can track an unlimited number of phones from a single account.
Disadvantages
The app has only three tools: location tracker, reverse number search, and data leak checker.
Pricing
Detectico offers two plans:
1-day trial for $1.19
1-month plan for $66.45

Conclusion
All of the apps we've tested do a decent job of phone tracking, but Phonsee definitely holds the leading position. From GPS tracking to social media monitoring, it offers the most advanced tools you'd expect from a premium spy app for Android, but at a reasonable price. Want to know what they're doing on their phone right now? Phonsee makes it possible thanks to real-time data sync. Check it out!