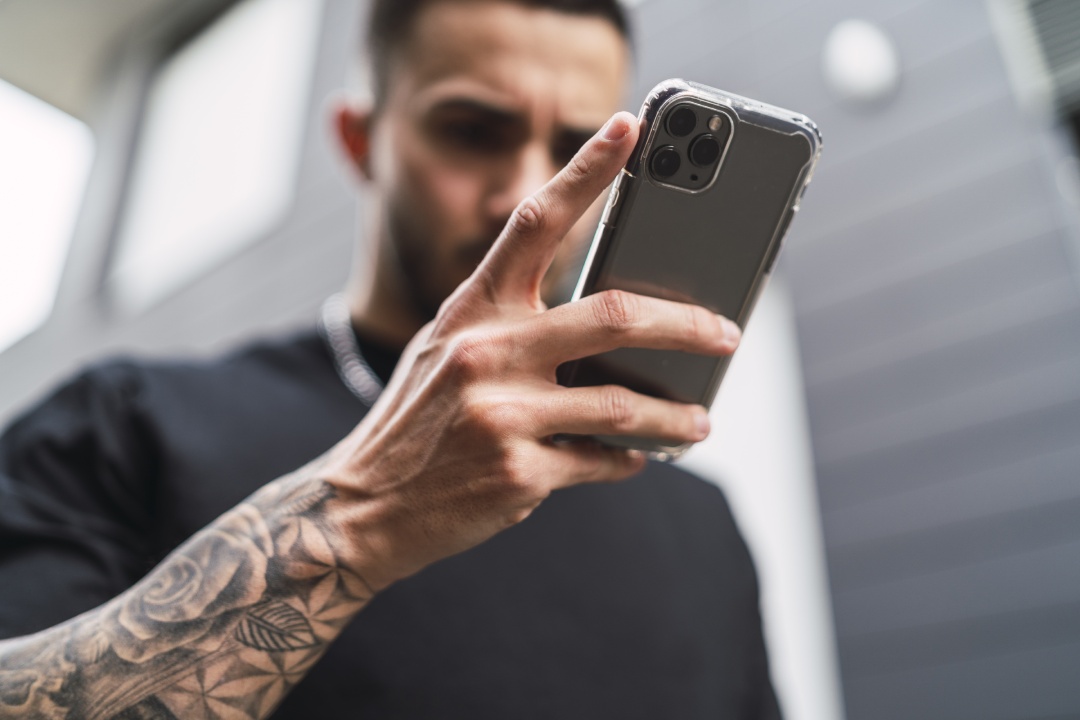 How Can I Read My Boyfriend's Text Messages Without Touching His Phone?
People in relationships are more likely to cheat if their partners do not fulfill their physical, emotional, or sexual desires. Sadly, cases of infidelity are on the rise among the GenZ population. If you're having suspicions that your sweetheart is having an affair, then it might help to check boyfriend's text messages and monitor his emails.
Trust is a key ingredient of a successful relationship. However, your partner could start exhibiting certain behavior changes that might make you question whether they still truly love you. For instance, he could upgrade his entire wardrobe and start hitting the gym in an attempt to woo his secret crush.
Read on to learn how you can see my boyfriend's text messages without him knowing.

Table Of Contents
How Can Phonsee Help Me Out?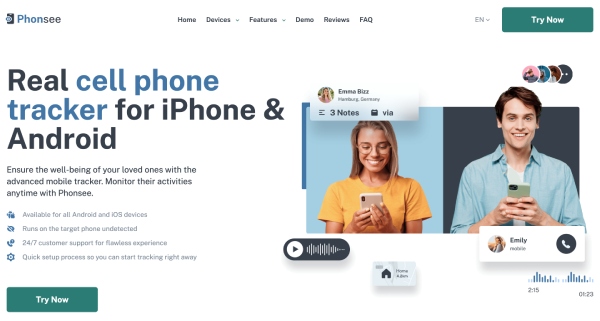 Phonsee is a reliable tracking app that provides users with a vast selection of monitoring features. This spy app can help you see who my boyfriend is texting on iPhone or Android without raising his suspicion.

Some of Phonsee's most popular features include:
GPS location tracker. This app can discreetly track your target device's location in real time, revealing your boyfriend's whereabouts throughout the day.
SMS monitor. So, who is he texting every time he's on the phone? Phonsee is equipped with a powerful SMS tracker that provides a bird's-eye view of all his sent and received messages. It's actually the best way to spy on your boyfriend's text messages.
Instant messengers tracker. Phonsee also allows you to view your partner's social media chat messages. Impressively, it can track more than 16 instant messaging apps, including WhatsApp, Instagram, Facebook Messenger, Telegram, Kik, Line, and Tinder.
Geofencing tool. This feature allows you to set "safe" and "dangerous" zones on a map. Every time your boyfriend enters a danger zone or steps out of the safe zone, you're immediately notified via email.
Keylogger. This app has a built-in keylogger that records everything your target user types on their device. It can collect vital data such as your boyfriend's account credentials, outgoing messages, device passcodes, and more.
Screenrecorder. If you want to get my boyfriend's text messages without him knowing, Phonsee's screenrecorder can help. This feature takes screenshots of the target device at regular intervals and stores them in the Control Panel. You can conveniently view your partner's sent, received, and deleted messages from the comfort of your phone.
Call log tracker. If you're curious to know who your boyfriend calls the most, Phonsee can help. This app reveals your target user's call history, including recipient details and timestamps, to help you discover whether they're cheating.
Gallery viewer. You can also have a sneak peek into their gallery using Phonsee. This feature allows you to see all photos and videos that are saved inside their phone. If he has pictures of other women inside his device, you'll definitely find them.
Browsing history checker. Learning how to hack your boyfriend's text messages using Phonsee comes with an assortment of benefits. You can even use this spy app to check his browser history and learn which websites he often frequents.
Calendar activities tracker. Is your partner planning to meet up with his clandestine lover during the weekend? Phonsee reveals all the events he has recorded in his calendar, allowing you to be one step ahead of him.
Apart from these features, Phonsee comes with an email tracker, app blocker, bookmark checker, Wi-Fi tracker, and more. It's one of the best apps to see who your boyfriend is texting.

How to Install and Start Using Phonsee
Here is a step-by-step guide on how you can install and use Phonsee to see who my boyfriend is texting without his phone:
Visit the Phonsee website and create your personal account
Select the type of device to be monitored: either Android or iOS
Choose your preferred subscription plan from the available list
Complete the checkout process using your payment method of choice
Grab the target device, launch Play Store, and disable "Play Protect"
Open Google Chrome and paste the link provided by the wizard to install Phonsee
Click on the Captcha security checkbox and select "Download"
A prompt might appear at the bottom of your screen. Click on Open > Settings > Allow from This Source and head back
Click on "Next" and wait for Phonsee to download before clicking "Open"
To install the app, click Allow on all pop-ups and follow all the wizard instructions keenly
Tap "Complete Installation" and start monitoring your boyfriend's phone using Phonsee
Other Methods You Can Try
Apart from using Phonsee to read my boyfriend's text messages without having his phone, there are several alternatives you can utilize to spy on him. These include:
1. Seek His Permission Directly
The most straightforward method of checking his chat messages would be to request his phone and go through it carefully. If he agrees, then you'll be in luck.
Make sure you view his social media accounts, SMS texts, gallery, emails, and recycle bin before giving him back the device.
Pros
This method is free since it won't cost you a dime
It's easy to implement
You'll get the chance to slowly go through his phone and confirm your suspicions
Cons
There's a high risk of breaking his trust
Your boyfriend might refuse to provide his phone and heighten your anxiety
This technique could cause a rift in your relationship
2. Hire a Competent Investigator
If you're endowed with enough resources, why not hire a trained hacker to help you get proof of his infidelity? Sure, it sounds quite risky, but the rewards will certainly be worth it.
Professional detectives don't come cheap. However, the services they provide can help you discover whether or not your boyfriend is cheating. Apart from trailing his vehicle and taking suggestive pictures of him with other ladies, your private investigator will also conduct a deep web search to check whether he uses dating sites such as Tinder.
Pros
You'll gather enough proof to confront him
It's relatively discrete
Cons
Be prepared to pay an arm and a leg for PI services
The detective could easily scam you
The success of this method solely depends on your hired detective
3. Contact His Network Provider
Network carriers usually keep a record of their clients' text messages for at least 90 days. If you know your boyfriend's login credentials, then you could contact AT&T, Sprint, or the specific network provider he's subscribed to and request access to his messages.
Learning how to check your boyfriend's text messages for free on Android might sound complicated, but it's actually quite easy if you have the right tools. This method could come in handy if you have his accurate carrier info.
Pros
This method is absolutely free
You'll get private access to his text messages for some time
Cons
You need to know your boyfriend's carrier account password for this technique to work
It's laborious and time-consuming
You might not obtain all the information you need
What Should I Do Next?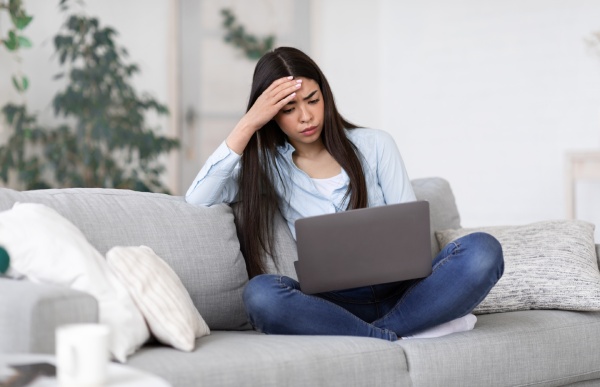 So you scrolled through his phone and found something unpleasant. What next? Let's discuss some great tips to follow when you view some inappropriate content on your boyfriend's phone.
1. Remain Calm
It's important to avoid overreacting if you found him cheating or gambling away all your money. Rather than engaging in a heated conversation with him, you could opt to take a walk or engage in any activity that calms your nerves. Letting your emotions get the best of you will only aggravate the situation and make you more bitter than you already are. Meditation and mindfulness can help calm your nerves and act more soberly.
2. Confront Him With Your Evidence
Once you're in the right headspace, confront him firmly with all the proof you've managed to gather. Don't talk rudely or speak with anger. Instead, simply lay down the evidence and let him know that you're aware of what's going on. Give him time to respond and be very attentive to what he says next.
3. Gauge His Reaction and Respond Appropriately
The manner in which your boyfriend responds to your expose will help you unearth the next course of action to take. If he becomes aggressive and starts blaming you for his infidelity or gambling habit, take a step back and try to comprehend that his defensive reaction might be driven by fear, shame, and shock.
But if he's remorseful and asks for forgiveness, give him a chance to explain himself. It's only after you've heard his side of the story that you can choose to give him another chance or call it quits.
4. Seek Professional Help
If you decide to give your relationship another try, sign up for couple's therapy classes. The insights you get from a certified relationship counselor will help you rebuild trust, affection, and friendship with your better half.
A stitch in time saves nine. Learning how to find out who your boyfriend is texting can actually rejuvenate your relationship and make it stronger than ever before.
5. Learn to Rebuild Your Relationship
It's often said that the journey of a thousand miles begins with one step. Developing your fragile relationship from the ground up will take months, so be patient and enjoy the process.
If you continue watering your love, it will soon blossom into something incredibly beautiful. Just be sure to give yourself time and not rush into things. Remember, you deserve a loyal man who truly values you.

Frequently Asked Questions
Is it legal to spy on my boyfriend's text messages?
Going through your partner's phone and reading his messages is only legal if you obtain his permission first. We strongly recommend that you seek your boyfriend's consent before sifting through his private chats. However, it's still legal to track another phone if it belongs to you.
What might be the consequences of reading his messages?
If your boyfriend finds out that you've been spying on him and checking his text messages, he might lose all trust in you. He could also report you to the authorities for illegally tracking his device if you've been doing it behind his back. That's why we recommend using a discrete app such as Phonsee for all your spying activities.
Can I see his deleted messages?
If you're interested in viewing his disappearing messages, then it might help to use a trusted monitoring app such as Phonsee. Such software contains a variety of features, such as the screen recorder and instant messengers tracker that capture and store messages before they vanish or get deleted by the target user.
Apart from helping you view all the messages he deleted, Phonsee can also record his surroundings and track his whereabouts using its powerful range of features.
What else should I monitor other than his messages?
There are many things you ought to monitor. For instance, you could choose to track his real-time location so as to assess his movements all through the day. Men are also notorious for using their email accounts to cheat.
His call logs and contacts list can also provide clues on who he's talking to frequently. His calendar can reveal all his upcoming plans, including meetings with his secret lover. His gallery will shed ample light into which ladies send him nudes. His installed applications can tell you whether he uses dating apps such as Badoo to flirt with ladies.
Using a dedicated all-in-one tracking app such as Phonsee will help you monitor all these vital stuff with remarkable ease.
Conclusion
Learning how to see your boyfriend's text messages without him knowing is important if you suspect that he's having an affair. Unfortunately, some men may date multiple women in a desperate search for validation and companionship. Others simply love the thrill of the chase.
Whatever the case, you deserve someone who appreciates you deeply and loves you in many different ways. After conducting lots of research, we've found Phonsee to be the best app for checking your boyfriend's text messages.